Last Friday, 5th of July 2019, the National Centre for Excellence in Research on Parkinson's Disease (NCER-PD) invited all participants of the Luxembourg Parkinson's Study to join the annual celebration on Belval Campus.
Around 120 patients, healthy control subjects, and their families followed this invitation and took the chance to have a look behind the scenes of the Parkinson's research at the Luxembourg Centre for Systems Biomedicine (LCSB).
The half-day event started with an introductory speech by Prof. Rudi Balling, director of the LCSB. He appreciated the effort of all partners involved in the Luxembourg Parkinson's Study and emphasised the joint success of this unique research programme within the country and Greater Region: "We wish to warmly thank more than 1400 participants, with or without Parkinson's disease, for the trust and support over the last four years! With this event we would like to show that your contribution has an impact on advancing Parkinson's research in the country".
During the event, the new Luxembourg Brain Bank programme was presented for the first time by neuropathologist Prof. Michel Mittelbronn. In this brain donation programme, participants of NCER-PD with and without Parkinson's disease (PD) are invited to register and donate their brain to research after death. "Brain donation is a precious and enduring gift to research. Brain tissue, donated after death, provides material for research studies that may help to better understand the causes of Parkinson's disease", said Mittelbronn. In the long run, such studies can result in new treatment options on a long term and probable improvements for PD patients. At the Neuropathology booth, visitors could have a look at human brain samples prepared for research and learn about how brain banking works and why brain donation is important for PD research in Luxembourg.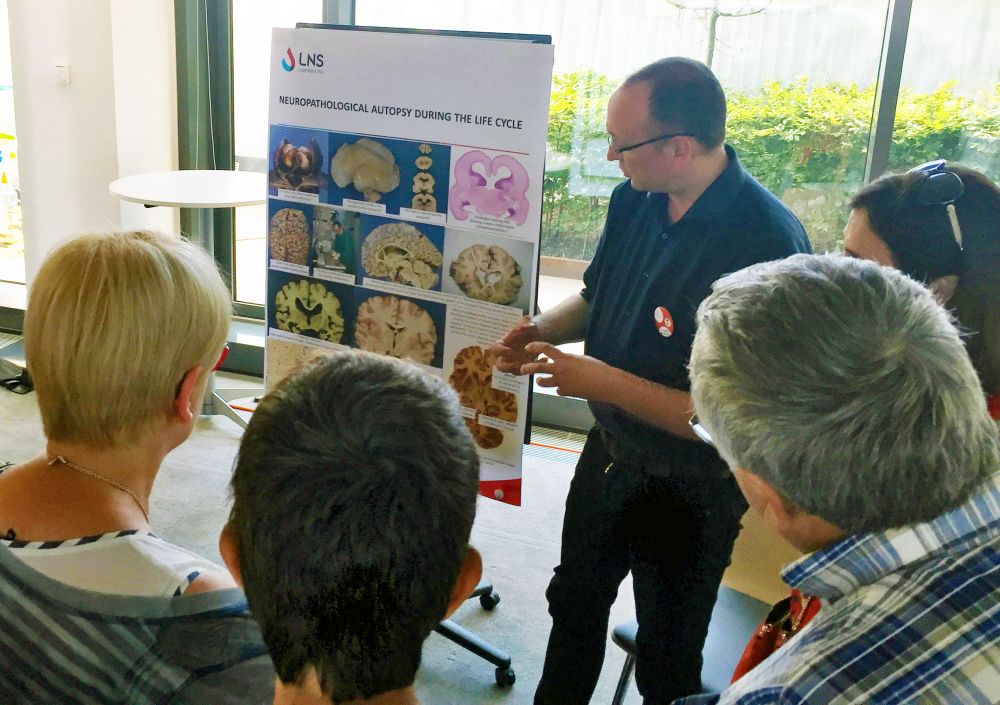 To explain to the participants what happens to the samples that they are providing for the study, researchers from the LCSB prepared lab tours and gave information on following topics:
How neurons are reprogrammed from donated skin samples via stem cells and their application for research,
How donated brain tissue can be analysed to explore causes of PD,
Which impact environmental factors can have on PD,
How a shoe sensor can be helpful to collect and provide data of the patients' gait.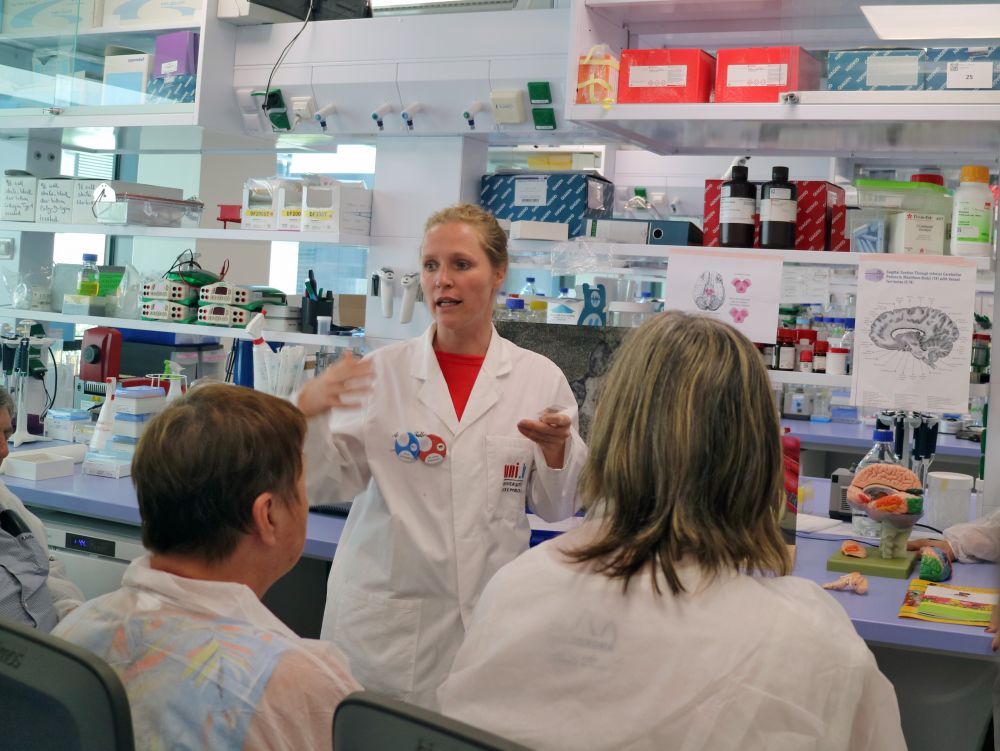 There were information booth of the NCER-PD collaborating partners like the Luxembourg Institute of Health (LIH), the Integrated Biobank of Luxembourg (IBBL) and the Centre Hospitalier du Nord (CHdN). In addition, visitors could inform themselves about different healthcare options of the integrated care network ParkinsonNet and the programme for dementia prevention (pdp).
Musical entertainment of the UniJam band, composed of researchers and employees of the University Luxembourg and other research institutes, and a steady supply of fresh fruits and sweet treats ensured a relaxed and carefree atmosphere.
At the end Prof. Rejko Krüger, coordinator of the NCER-PD research programme, announced that the Luxembourg Parkinson's Study received excellent grades in a recent international scientific evaluation. "This is your merit. Without you, this research project in the Greater Region would be impossible. Thank you for your continuous support, we are pleased to invite you again next year!".