Digital Summer Party 2020
Join us for the new online lecture series on Parkinson's disease!
In the week of 6-10 July 2020, the teams of NCER-PD and ParkinsonNet Luxembourg will host online events on Monday, Wednesday and Friday to inform about the current state of the Luxembourg Parkinson's Study and give advice to Parkinson's patients.
This digital lecture series replaces the annual Thank You party of NCER-PD which can unfortunately not take place in its normal format given the COVID-19 circumstances.
In the presentations, Prof. Krüger and Prof. Schwamborn will give insights into the current state of research on Parkinson's disease. In addition, health professionals from various disciplines will show valuable strategies and exercises for patients to do at home in order to maximize the quality of life.
After each presentation, participants will have the possibility to ask questions to the speaker directly. We also encourage interested people to send in questions in advance via email to parkinson [at] chl.lu which we will direct to the speaker.
The event takes places online via telephone conference on Webex  and is completely free of charge. It is not required to be included in the NCER-PD study, everybody interested can attend (patients, caregivers, family members, etc.). All lectures are tailored to the questions and needs of Parkinson's patients.
Welcome talk, hallmarks and status of NCER-PD

Prof. Jens Schwamborn (DE)

Insights into research: Skin cell samples and mini-brains int he laboratory

NCER-PD clinical team (FR)

What's happening with my blood sample?

Trainers from ParkinsonNet (FR)

Video-based exercises:

Train balance and coordination
Functional writing exercise
Strategies to drink from a glass

Trainers from ParkinsonNet (DE/LU)

Video-based exercises:

Strategies on how to use the telephone?
Mobility in sitting, standing, moving and balance

NCER-PD clinical team (DE)

Difficulties during night-time: Getting up at night


Introduction Centre Tulipe & overview

Introduction RBS Center fir Altersfroen & overview
1. Click on the link to the meeting

2. On the next page, you click 'Join from your browser' at the bottom of the page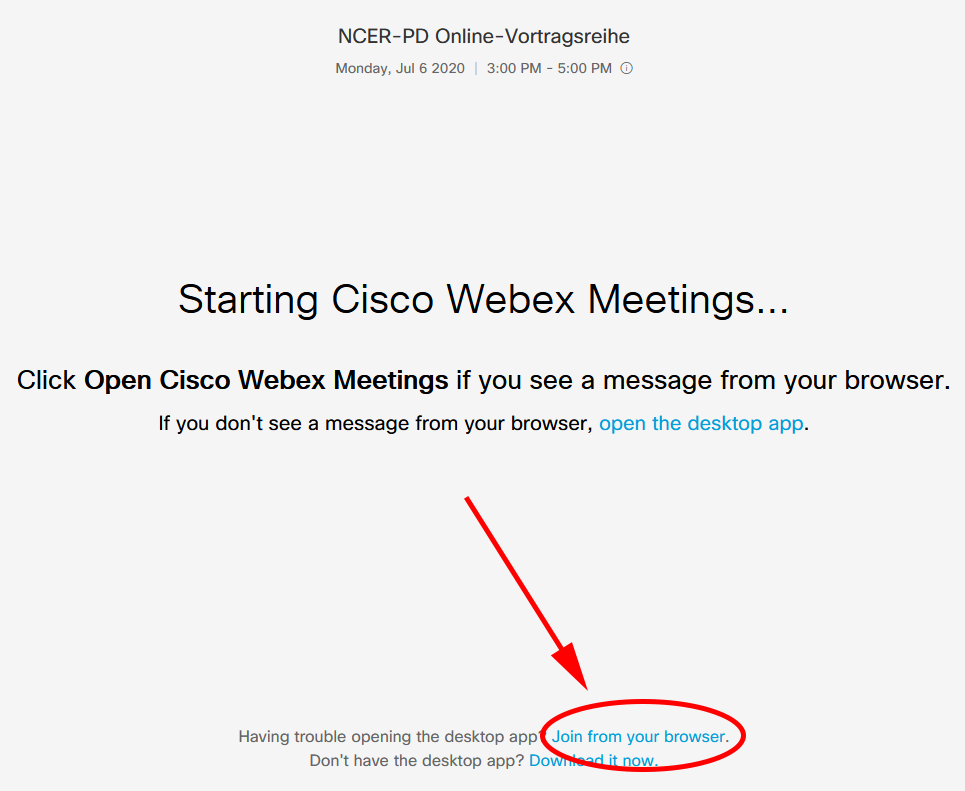 3. Webex will ask for your Name and Mail address. If you don't have a mail address, you can just enter:
mail@uni.lu
4. In the next window, you just need to click the green button to join the meeting. Webex might ask if you want to give access to the microphone and camera (top left). You can ignore this, as you will be able to see and listen to the talks without it.
5. In the meeting, you will see a navigation bar at the bottom. One symbol looks like a speech bubble. Click on it.
6. On the right, the chat window will open. Here you can type your questions live which will be seen by the speaker and the other participants.