On 12 August 2019, a new Flying Team location was inaugurated, at the premises of Ketterthill Echternach, to allow people from the East of the country or Germany to take part in the Luxembourg Parkinson's study closer to their home.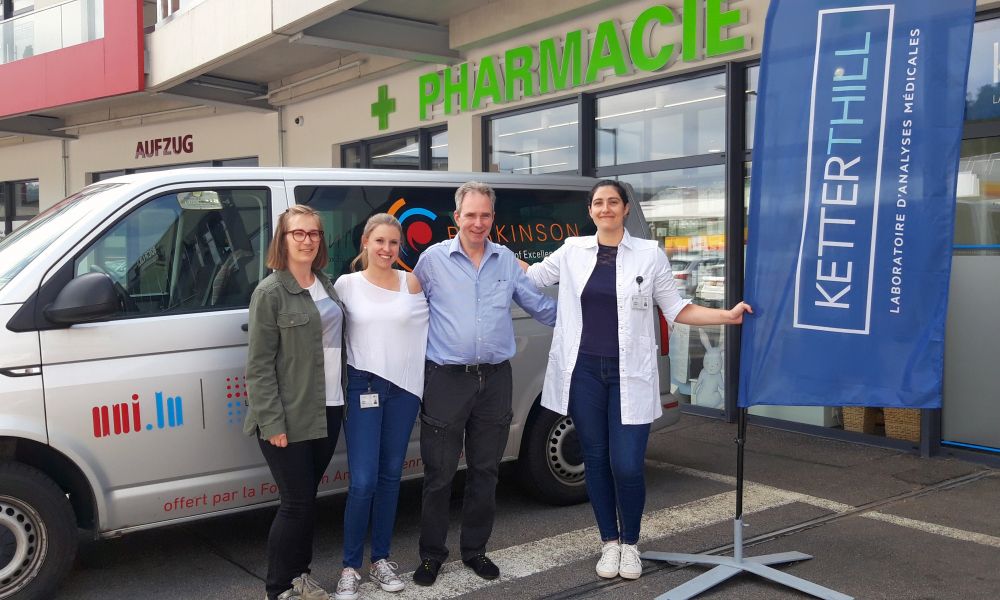 Anne-Marie Hanff (nurse), Claire Pauly (neuropsychologist), one of the patients that volunteered, Dr. Sylvia Binck (neurologist in training)
Study participation now also possible in Echternach
Ketterthill has made space available in their building so that participants from the East of the Grand Duchy and from Germany can be examined in Echternach and hence do not have to travel long distances to the Parkinson's research clinic in Luxembourg City.
A neurologist, a neuropsychologist and a clinical research nurse of the NCER-PD Flying Team go to Ketterthill Echternach whenever there is a demand in the eastern region of Luxembourg, or Germany. The blood, urine and saliva samples of the participants will be then transported in the Flying Team Van, donated by the Fondation Losch, to the Integrated Biobank of Luxembourg (IBBL). Here the samples will be processed and stored for the research program. 
By having recruitment hubs all across Luxembourg, researchers hope to increase and facilitate the involvement of the population in the NCER-PD cohort. "Patient engagement is critical for the success of the study. Thanks to the generous support of Ketterthill, we will be a step closer to participants and to reaching our goal of recruiting 800 patients for the study", said Prof. Rejko Krüger, who leads the study as a neurologist at the CHL and researcher at the University of Luxembourg and the Luxembourg Institute of Health.
"By the end of 2019, we want to reach 800 volunteers as both patients and controls, i.e. a total of 1,600 participants. We hope that opening this flying team location will allow us spread the word about the study, as well as welcome the remaining participants needed", said Prof. Dr. Rejko Krüger. These numbers are needed to enable scientists to draw balanced scientific conclusions. For the control group, men over 65 years in particular are needed in order to allow an optimal comparison with the patients group.
The next Flying Team visit is scheduled on the 5th of September and in general, the team can go to Echternach whenever it is needed. For more information, please get in contact with our clinical team at the Centre Hospitalier de Luxembourg, by telephone or email.
Email: This email address is being protected from spambots. You need JavaScript enabled to view it.
Tel: +352 44 11 4848