On Tuesday, May 7, 2019, the Luxembourg Center for Systems Biomedicine (LCSB) of the University of Luxembourg welcomed around 30 members of the German patient association Junge Meenzer Parkis in its laboratories.
"No one should feel left alone with the disease," says president Angela Ertl the goal of her patient advocacy group in Mainz for young patients and their relatives. "We want to educate about the disease and support people affected by Parkinson's disease. Especially for young patients, the diagnosis, which comes as a surprise to many, leads to various questions. Therefore, also the subject of research and the medicine of the future is of great interest." During the visit to Belval Campus, presentations, guided tours and personal exchange with Prof. Rejko Krüger and other LCSB researchers offered the visitors the opportunity to ask these questions and get insights behind the scenes of Parkinson's research.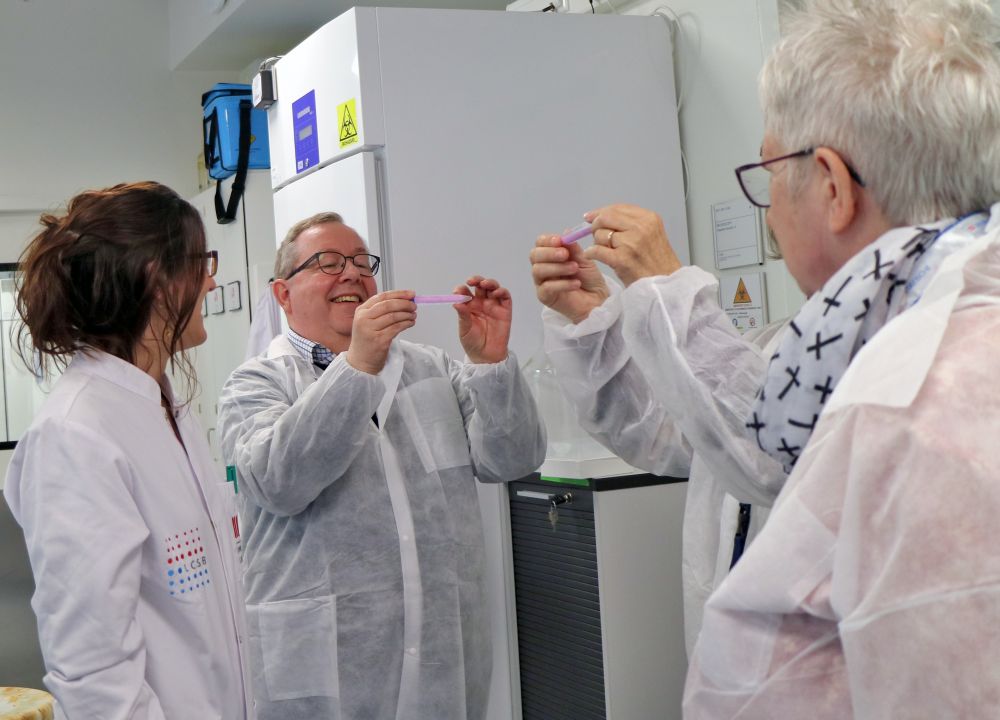 First, Prof. Rejko Krüger presented the interdisciplinary research strategy of the LCSB and the Luxembourg Parkinson's study: "We would like to better understand the molecular mechanisms leading to Parkinson's disease. Only then we can in the future diagnose the disease earlier and treat it better." The participation of hundreds of people with and without Parkinson's in the Luxembourg Parkinson's study has already yielded a large amount of data, which will provide insights in this regard.
Afterwards the guests also had the opportunity to visit the laboratories. During the lab tours, researchers showed and explained their work in the field of stem cell research, molecular neurobiology and deep brain stimulation to give visitors an idea of the various Parkinson's projects of the LCSB. "Being on site and seeing what is for example done with the samples that Parkinson's patients provide for research is very motivating," says Angela Ertl. "We sincerely thank Prof. Krüger and his team for these insights and hospitality at the LCSB."
For the researchers such visits are a matter of course. "It is very important to us to build and maintain relationships with patient associations, even beyond the borders of Luxembourg, and to inform them about our scientific projects. The patients are the true experts and can make an important contribution to research for instance through their participation in the Luxembourg Parkinson's Study," says Krüger