Since October 2021, 25 NCER-PD participants had the opportunity to travel to the Netherlands as part of our brain imaging study conducted in collaboration with our partners from the Donders Institute for Brain, Cognition and Behaviour (DIB) in Nijmegen. They were always accompanied by at least one member of our multidisciplinary team from the Parkinson Research Clinic. Our research aims to examine the genetic underpinnings of Parkinson's disease in collaboration with one of the most distinguished European centres for imaging in neurodegenerative diseases.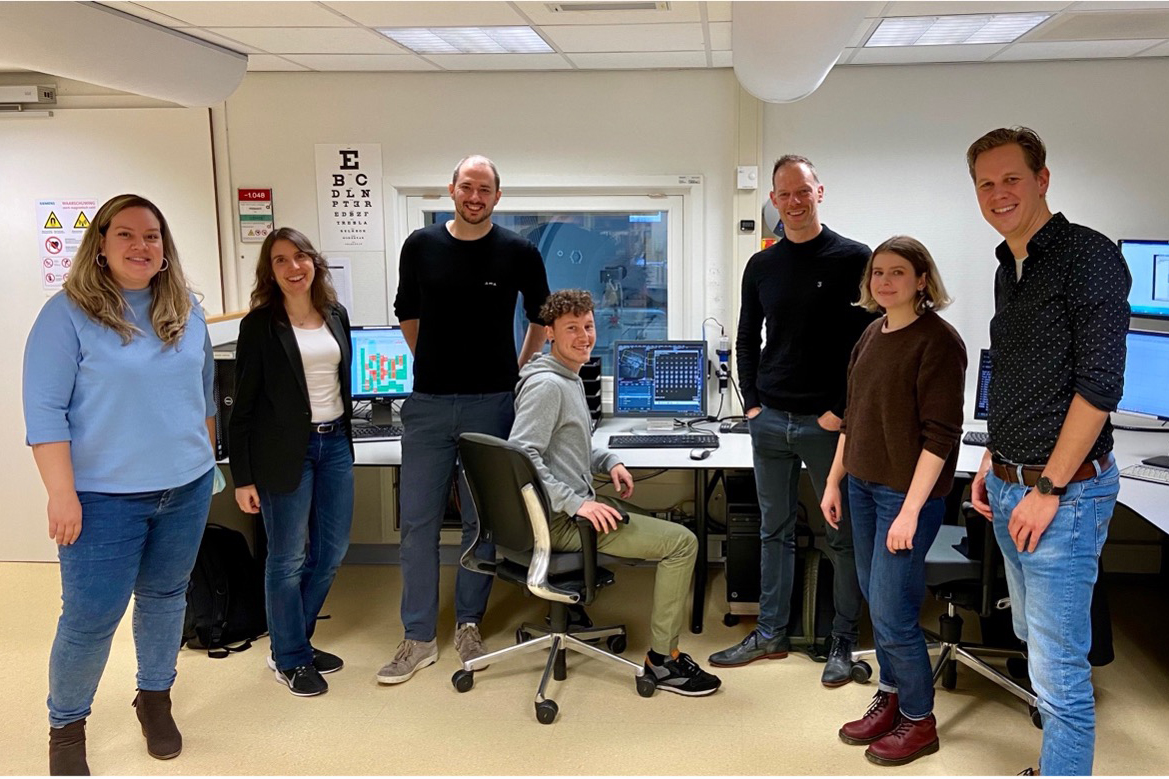 The study participants were examined twice during two sequential days by structural and functional imaging of the brain. Scans of their brains were recorded by magnetic resonance imaging (MRI), a non-X-ray-based imaging technique, without using a contrast medium.
Some of the participants in the study are carriers of an alteration of the genetic information in the Glucocerebrosidase gene (GBA), which influences the susceptibility to Parkinson's disease. "This gene encodes a protein called beta-glucocerebrosidase, an important enzyme for the clearance of misfolded proteins from the cells. If this gene is altered, cells cannot efficiently get rid of protein waste and finally degenerate," explains project manager Dr Clarissa Gomes. "However, carrying an alteration in the GBA gene only defines a certain probability of developing Parkinson's disease during life. For most of the carriers the occurrence of the GBA gene alteration does not lead to Parkinson's. Therefore, we want to better understand this genetic subtype of Parkinson's and what are the protecting factors that prevent developing Parkinson's in carriers."
What is the aim of the brain imaging study?
With this study, NCER-PD researchers want to define the potential consequences of alterations in the GBA gene on the structure and function of the brain. Dr Tainá Marques, also project manager of the study, details: "Identifying early changes in the brain structure and function will help to identify carriers of GBA mutations who may profit from future neuroprotective treatments to prevent neurodegeneration leading to Parkinson's disease. Ideally, one could also differentiate in the future between GBA mutation carriers with a risk of developing Parkinson's disease and those who are protected."
COVID-19 waves have unfortunately caused delays in the study but, after travelling resumed in April 2022, 21 participants travelled to the Netherlands and took part in this important research project. 14 additional participants are scheduled in the upcoming months!
We are still inviting new participants

Since different alterations in the GBA gene do not necessarily lead to Parkinson's disease, both patients and healthy control subjects, with and without an alteration in the GBA gene, are qualified to take part in the study. Comparing these four groups will help better understand how Parkinson's disease occurs and thus improve the accuracy of diagnosis and therapeutic strategies.
If you are enrolled in the Luxembourg Parkinson's Study and are interested in supporting our research by participating in the brain imaging study, please get in touch with the clinical team via phone or email:
This email address is being protected from spambots. You need JavaScript enabled to view it.